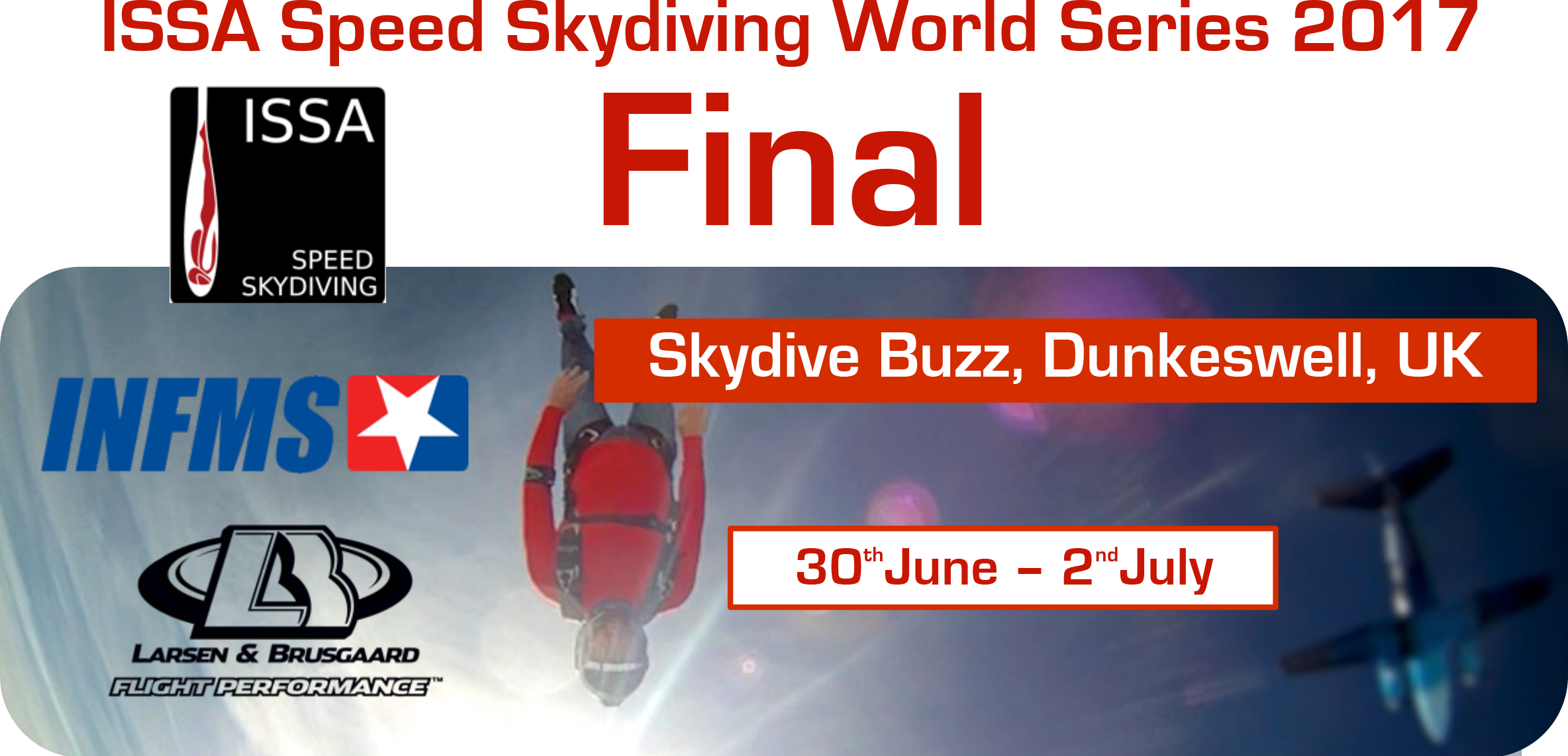 Words by Andy Torbet
ISSA World Series Round 4 – Skydive Buzz, Dunkeswell, United Kingdom
I was introduced to Speed Skydiving two years ago when I did some filming with the 2016 ISSA World Series Champ Mikey Lovemore. I've done some jumps on my own since but never with much intent or coaching. However, the relaxed, welcoming nature of 'Speeders' I've met encouraged me to have a go and enter the 4th round of the 2017 ISSA Speed Competition in my home DZ of Dunkeswell in the UK.
Those on the outside would assume an international competition involving trying to go as fast as humanly possible head-down towards the Earth would be a full of tension and absolutely focused individuals. But on the contrary it must be the most relaxed and friendly form of skydiving. Between jumps there is no need for heated team debriefs then endless rehearsals on the creepers. You just hand in your Protracks, pack and chill. You've no teammates to hang out with so the other competitors become your 'team'. I witnessed the top performers in the world happily sharing tips, mistakes and advice with novices and even each close rivals. It was still a competition but folk were genuinely happy when ranked near them performed a top jump. Speed is all about how you do compared to yourself not anyone else. People cared more about beating Personal Bests than other competitors.
There was a great international showing as 7 of the 15 competitors where non-UK coming from Sweden, Germany, Austria, Switzerland, Portugal, Italy and the-near-independent island of Jersey. But the podium was an all British affair. Max Hurd, not unexpectedly, came first and won the overall World Series, with Mikey Lovemore, last year's overall winner, in third. The surprise of the competition was an outstanding effort by relative newcomer Matt Black who not only came second but, with a first jump of 548.77 kmph became the 4th fastest in the world – a man to watch for 2018. Most broke Personal Bests and new national records where set for Portugal and Italy and 3 of the field of 15 where first time competitors in Speed. Mikey Lovemore, who organized the event, managed to drum up media support with multiple radio interviews and even a BBC film crew came down to interview him as well as Paulo Alves from Portugal, representing out international competitors on screen.
I came 13th out of 15 but only because our two female competitors had to withdraw because of injury (pre-existing – the competition went without incident…apart from me dropping a toggle during my final flare). So in reality I came last. I'd like to say "but if they gave a medal for the skydiver having the most fun it would have been me" but, although everyone seemed to be having a great time, I think this accolade would have to go to The Best Newcomer (and now the Fastest Man in Jersey)
Competing in Speed can be frustrating. It's frustrating when you're not performing as well as you'd like to or as well as you know you can. But it's all about you and that's what makes it so relaxing. You won't mess up any one else's competition, your team mates are your fellow competitors and someone as novice as I can treat it like a weekend workshop in how to go faster with a dozen coaches including the best Speeders in the world. Perhaps I should not have called it the 4th round of the 2017 ISSA Speed Competition but the 4th round of the 2017 ISSA Speed Community.
Speed skydiving in a niche sport within a niche sport and therefore support is hard to come by and much appreciated. I can speak for all the competitors when I extend my thanks for the Judges, Arnold and Angelika, for giving up their free time to come to the UK and make the competition possible, to Jason Farrant and Skydive Buzz for hosting the event and basically giving the competition our own plane for the weekend, to Larsen and Brustgaard for their continued support, to Skydive Now for supply some extra goodies for all the competitors and to Infamous for sponsoring the competition.
So I came last at my first competition and, frustratingly, did worse than I do in training. So will I enter again? I had so much fun, learned so much and was encouraged to improve by my experience. So I won't be entering just the 4th round next year…I'll be entering 1-3 as well.