Words by Mike Lovemore
The 2nd Tim Mace Memorial Cup from my point of view.
This competition, although smaller than the first Tim Mace Memorial Cup, was possibly much more significant. We saw for the first time ever the top three places finish with an average of over 500kph! That means that the average of their four best jumps was over 500kph.
It was an eclectic international field which comprised almost a complete list of the who's who in speed skydiving at the moment, newcomers and veterans. We even had Rainer 'Exi' Hoenle, IPC President showing us how he's a skydivers president by getting stuck into a new discipline. Gerda Klostermann-Mace was there again representing the heart of this competition.
| | | |
| --- | --- | --- |
| | | |
| Mike Lovemore and Gerda Maria Klostermann-Mace | | Competing IPC President Dr. Rainer "Exi" Hoenle |
Behind the scenes were the top team of judges and technical support. Arnold (Former Speeder and member of the 500kph Club) Hohenegger leading the judging team with Angelika, Holger and Tamy making lots of protracks beep. Congratulations to Tamy and Holger for achieving their Speed Judges ratings.
For me this was a two sided event. As well as wanting to return because of learning and progressing so much here last year, I've used it as part of my preparation for the World Championships in September. Of the three or four World Series events of the year it always attracts most of the top speeders. (Maybe I should go to the least popular one each year and increase my chances of winning) I had a wobbly start with a much slower than expected round one then an OB on round two and I was sitting far behind where I was expected to be. The pressure mounted for me and I'm glad at that point that we finished for day one and I had a night to mull over those rounds and prepare myself to move forward. I tried to remind myself of what I was capable of (504kph) and that I still had enough rounds left to still have a good result. I also realised for my training towards the world championships this was great practice. I needed to feel what it's like to be in that situation. The approach for that evening was relax, let go of any negative thoughts about the first rounds and try not to think about my current place in the standings. The perfect place to do that is Barfuesser in Leutkirch with a delicious local Pork Knuckle (Schweinshaxe), Weissbier brewed on site, accompanied by my fellow brits and the Swedes.
Day two of the competition… Boom new UK record!! 508kph. I was over the moon to not only be back in the ballpark I wanted to be, but a little bit faster. Then 521kph and 531kph and sitting in first place, I couldn't believe it. At this point I was doing much better than expected and I wasn't really used to being in this position. Cool head Marco admitted that I was making him nervous but evidently still not enough to throw him off his game. He stayed consistent and was ahead of me again by a tiny margin just before we went into the semi final. This was a great position for me to be in at this point as the pressure was mounting and it wasn't out of the question that i could win it.
Each of my jumps had left me thinking that I could definitely go faster and I'm becoming more and more aware of what it feels like to go very fast. It's not what you would expect and that throws a lot of people off the scent. It is a head game and controlling how you react to the pressure of competition makes a big difference.
A major aspect to this is that it is vitally important to have complete confidence in your equipment. You need to know that nothing is going to flap about and cause a premature opening. You need a main canopy that is ok with the occasional faster opening speeds (My new NZ Aeropsorts JPX Leia is perfect for me, I have complete confidence in the openings), you should have two audibles and be confident that you know what altitudes they're set to and that you can hear them with more wind noise. If you're jumping a full face helmet you don't want your visor opening. Any doubts about equipment or altitude awareness is going to take your attention away from the jump and it is unlikely you'll perform well.
So I went into the Semi final with confidence and tried not to think about the placings as we climbed above the sunny Allgäu countryside with the Alps rising in the distance. 501kph, still a great jump for me and only the 7th time I've been over 500kph in competition. But then Marco pulled it out of the bag showing his experience and ability to perform under pressure and did a 536kph the fastest jump of the competition. Then something happened in the final and both Marco and I did a slower than expected jump with Obelix doing the fastest jump in that round 515kph. I wonder whether Marco felt just a tiny bit of pressure break through his defences in the last round. I definitely felt the pressure in the final knowing that with a fast jump I could win the competition. In the end i was more than happy with my result because my average for the competition (best four jumps) was faster than my one single fastest jump.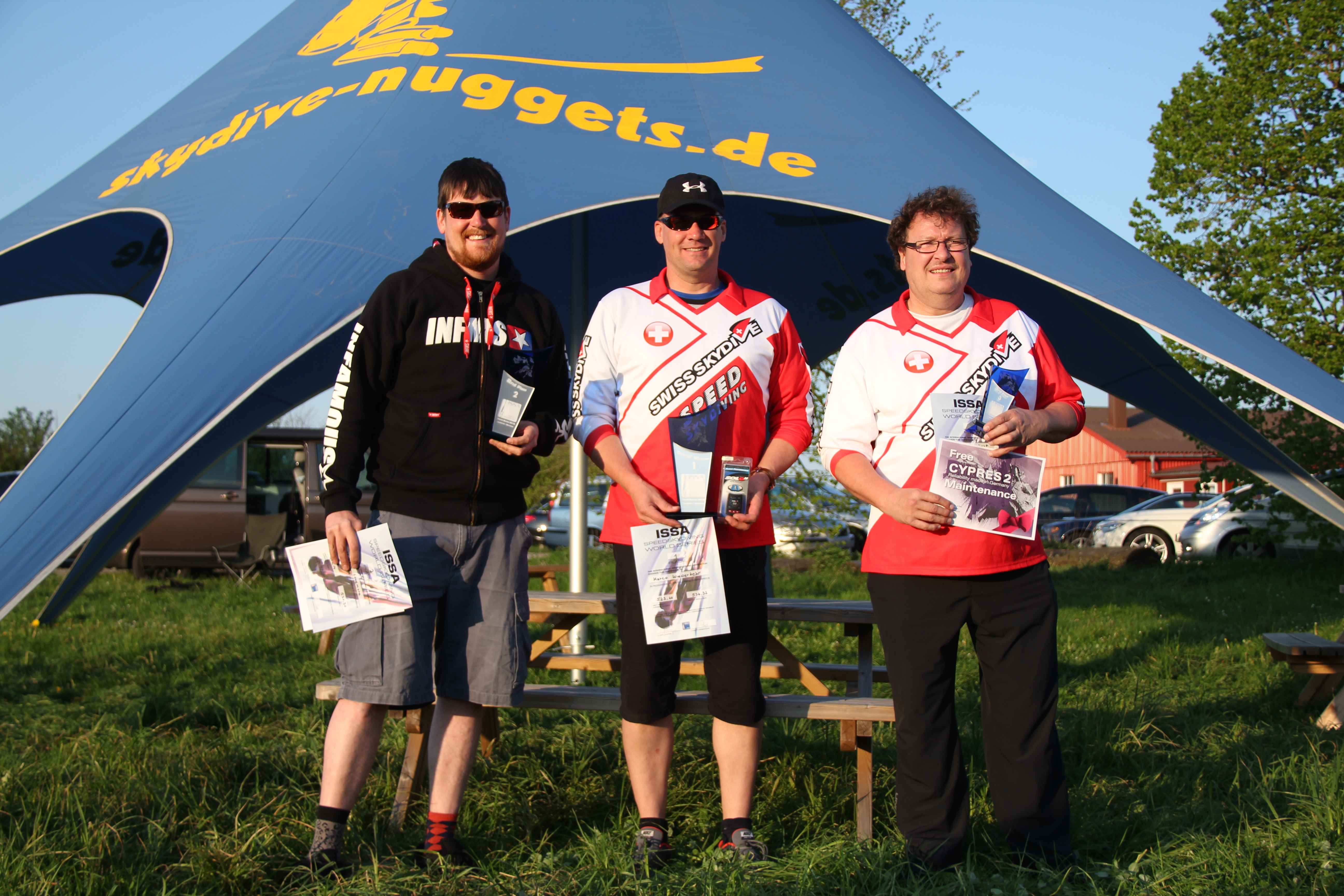 from l.t.r.: Mike Lovemore GBR Silver, Marco Wiederkehr SUI Gold, Christian Labhart SUI Bronze
Thank you Moritz, Arnold and Skydive Nuggets for running yet another top class competition and pushing the sport forward. See you in Sweden next month for the Final of the ISSA World Series.
Live-Results
ISSA World Series Overalls 2016
Competitors and Officials