Links
The Event
(Words by James Parker)
This was the final speed skydiving event of the year and great to see it being held in the UK. For me personally this was also my first speed skydiving competition so please do excuse any inaccuracies in these few words I have put together!
Firstly I would like to say how much I personally enjoyed this event, as a complete beginner everyone was very welcoming and only too pleased to help and point me in the right direction, with general tips for body position, clothing etc. Or as the "Big Dog" Marco Wiederkehr put it; "James, it is all just in the mind, relax and let go of everything"! Strangely enough I do think there is lots of truth in this statement!


Marco Wiederkehr, Round 4
For any other potential new comers taking the time to read this I can honestly say give it a go! The aim of the game is to exit the plane at 13-13.5k, on your own in a tracking type position, get yourself stable and then increase the angle to an almost vertical position while trying to maintain stability and increase speed, you have 2 Protracks clipped onto the laterals of your rig and your average speed is taken through a vertical Kilometre which for us Brits is roughly between 8,800ft and 5,500ft, when you hit 5,000ft both your audible's will scream at you (it is strongly recommended to have 2) and then you bleed of the speed back into a track, and then arch position with your arms strongly by your side to begin with and then out into arch once you have taken off most of the speed. For me personally I was getting up to about 270mph and it was taking about 800ft to get into an arch and ready for deployment so by about 4,200ft I was pretty happy and ready to pull. You can build into it gradually and to begin with basically not going so vertical and also pull out of the dive earlier………. Give it a go! Michael Lovemore is the man to speak to in the UK and he does coaching weekend's from time to time, thank you very much for all your help Michael!
The event started on Friday evening with a full briefing from the judges and from Hibalstow DZ, some competitors also arrived earlier on Friday and managed to get a few training jumps in. In total there was 13 competitors with a very healthy turnout of 7 Brits in their home competitionwhich included one female; Lucy Westgarth. Also a special mention to Lucy who went the other way up from the rest of us in a sit/stand position and recorded a best speed of 315.47 kph! Next time you need to go the other way up?!?!
On the Saturday the competition started first thing with several speeders on the first load of the day, Marco came straight out of the blocks with an impressive 488.85kph which was actually quicker than anyone else went the whole competition! For Marco this competition was especially important as it was only his second World series event this season and with 2 events counting towards the final rankings he needed a competition average of 428.8 in order to be the 2015 champion.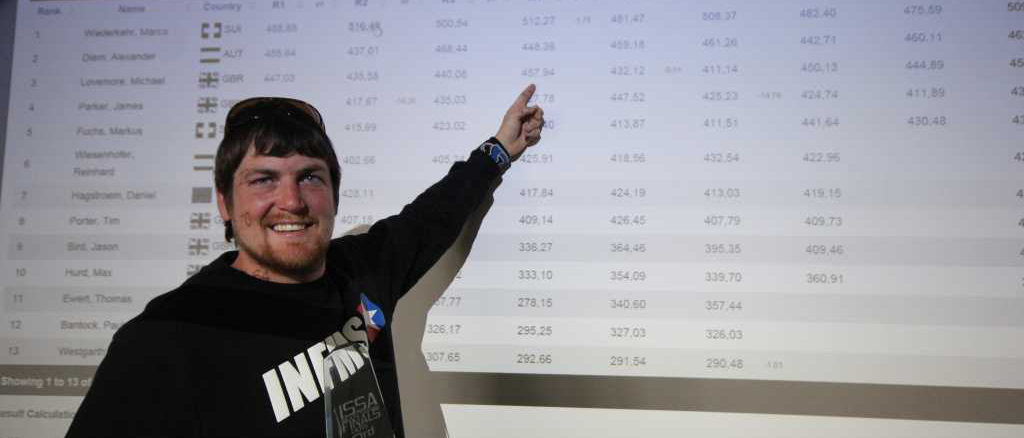 Mike Lovemore new Personl Best in Round 4
Michael Lovemore set a new PB in the first round with a jump of 447.03kph and then went on to set a new FAI British Record of 457.94 kph beating the previous record by 0.38 kph Sorry Jason! (Mark Calland is the quickest ever brit with his ISSA national record of 487.44 but the rules have been changed and all records reset). In the Third round Tim Porter also set a PB with a new speed of 445.59 kph, good effort Tim! The weather was absolutely fantastic all weekend and all 6 rounds were completed on the Saturday with the semi-final (Top 10 speeders) and then the final (Top 5 speeders) completed on the Sunday.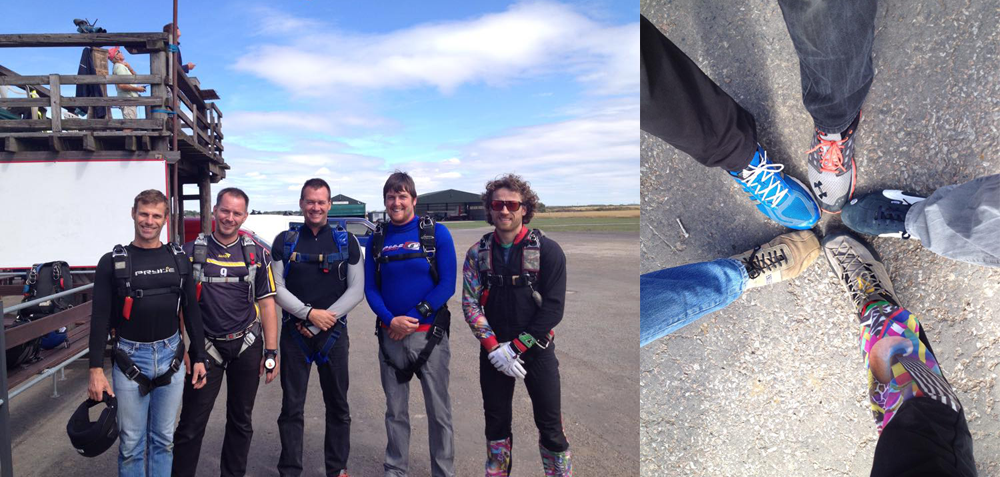 Finalists from left to right: Markus Fuchs SUI, Alexander Diem AUT, Marco Wiederkehr SUI, Michael Lovemore GBR and James Parker GBR
Marco Wiederkehr took the honours once again with a fantastic competition average of 509.42 kph), Alexander Diem was very strong in second position and Michel Lovemore took the third spot on the podium, good effort guys. For the World Series that put Marco in first place (with a very interesting sword/trophy thing to try and take home!). Thomas Christof finished in second, and Alexander Diem in third.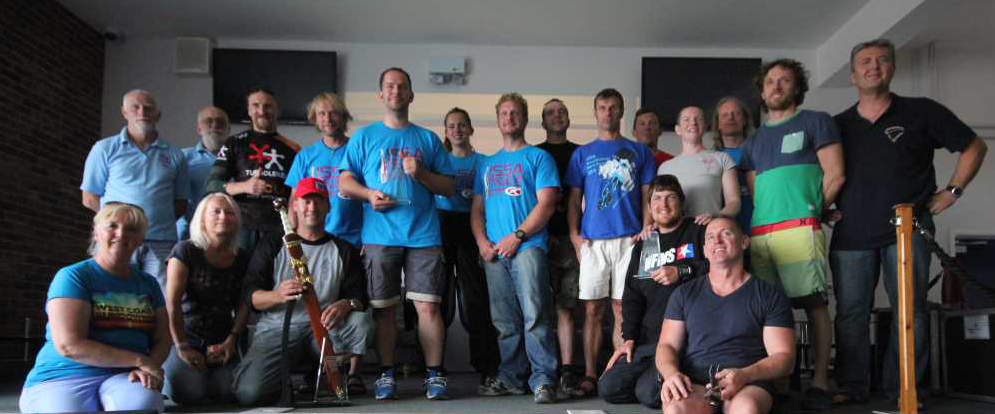 A special thanks must go to the chief judge Arnold, and all the other judges and newly trained BPA judges for all of their efforts in making this competition run so smoothly (and for letting us look at the graphs…. Ohhh how exciting!). Without these guys time and effort there would be no competition at all and I know that all of us competitors really appreciate your efforts. Also a big thank you to Skydive Hibaldstow for looking after us so well and accommodating some of the specific speed competition requirements, hopefully we will be back next year?!
So…… can any get close to Marco next year? Time to start training!!!
August 7th to 9th 2015 Skydive Hibaldstwo