Links
The Event
(Words by Peter Törnestam)
The 3rd event in the World Series of Speed Skydiving took place in Sweden. Stockholms Skydivingclub hosted the event at their Gryttjom DZ. - Naming the ISSA competition Faster Harder Gryttjom after the old Scooter song finally got us an opportunity to print those words on a T-shirt says Peter Törnestam, meet director and president of the club.
9 competitors from 4 countries participated.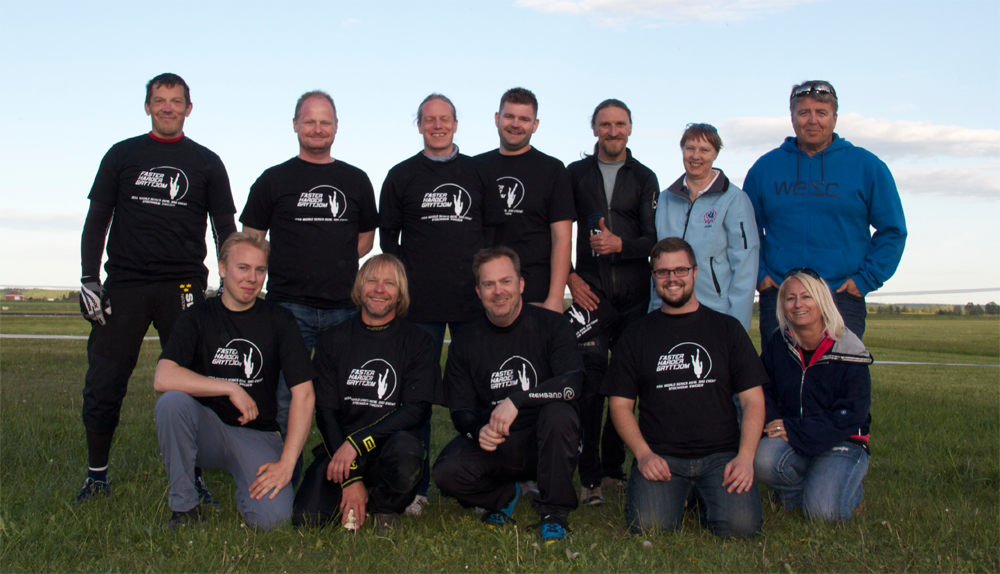 The weather forecast was not overwhelming with lots of wind and clouds. All jumpers got 4 jumps in on friday. Strong winds and cloudy made the competition fairly hard. Compared to the scores from last competition in Germany the speeds were a little lower except Thomas Ewert, Germany, he beat his personal best scoring a 377,34.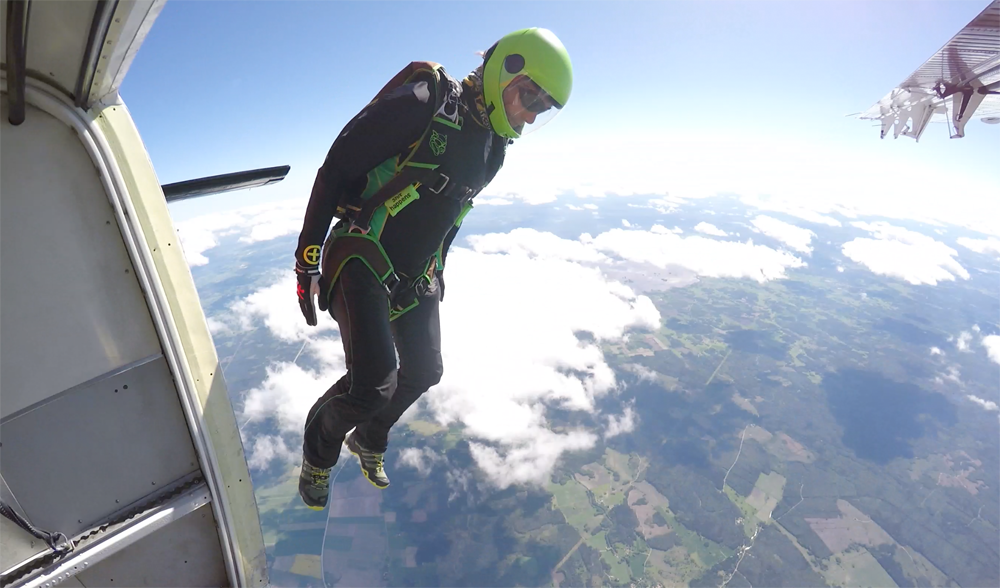 2 more jumps on saturday after almost the whole day on stand by and one hour breaks. Saturday night included a nice quiet dinner and early sleep for everybody… NO! The club was throwing a spontaneous -80´s theme Party with a big crowd from Norway.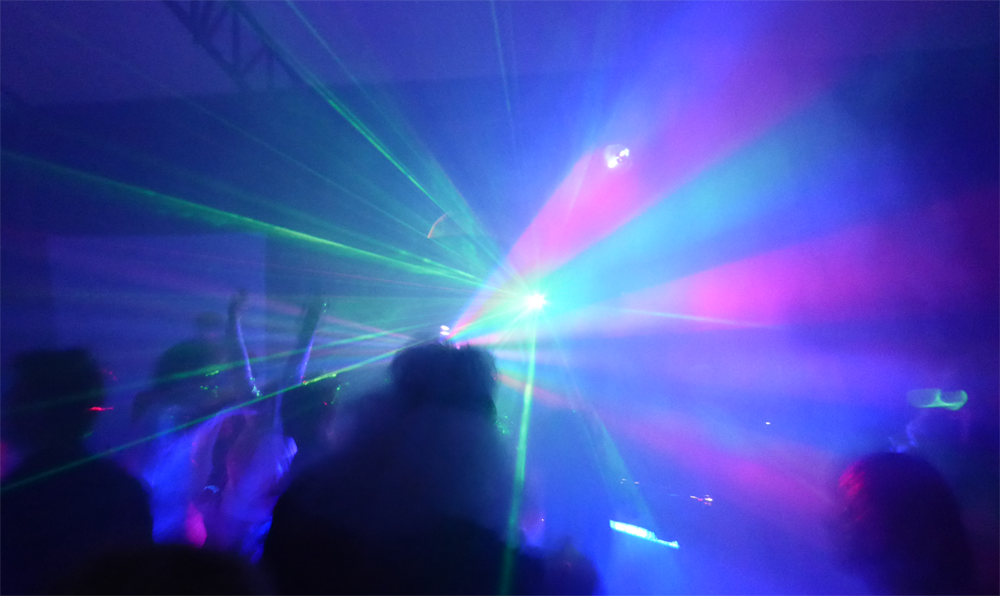 Sunday totally rained and blew away. An award ceremony was held and Sponsors Flysight and Paralog gave away their products to a happy Thomas Christof, winning at total 459,36 km/h, earning his Faster Harder Gryttjom T-shirt with the golden print.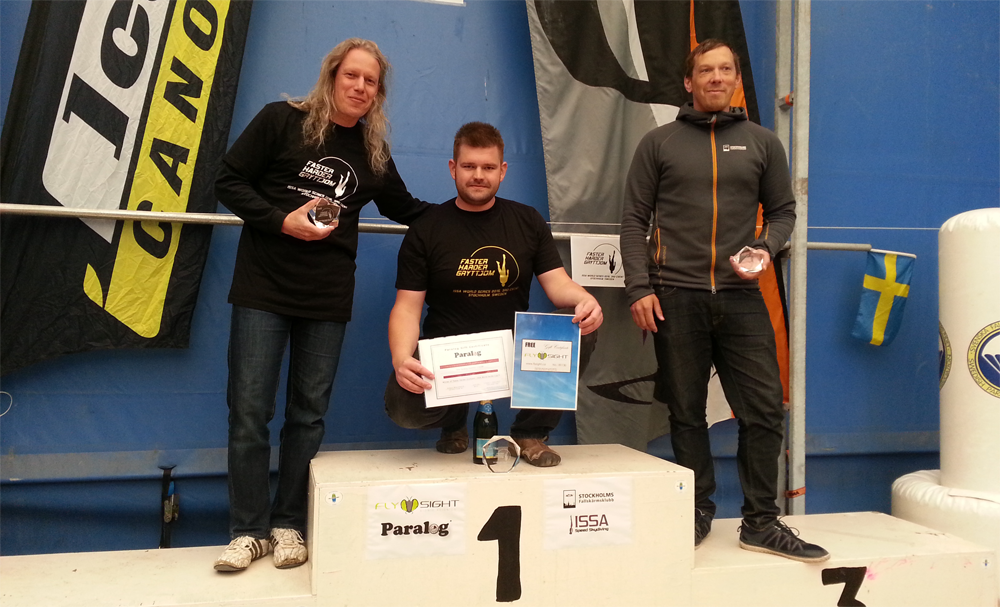 Judges: Elisabet Mikaelsson, Arnold Hohenegger and Angelika Mittasch
DZ info: Stockholm Skydivingclub www.skydive.se jumps in Gryttjom, Tierp. 80 km north of Arlanda international Airport. The DZ is a grass field w huge landing areas, a full size swooping pond and a large number of bunk beds, multi stove kitchen, showers, sauna and a café etc to hold a busy DZ with hundreds of jumpers and 2 planes. Their own Super Otter 300 and a Grand Caravan, leased from Germany. Ca 33.000 jumps a year of which 3200 is tandem jumps. The club is a non-profit organization. Jump-prize is 190 SEK (20€).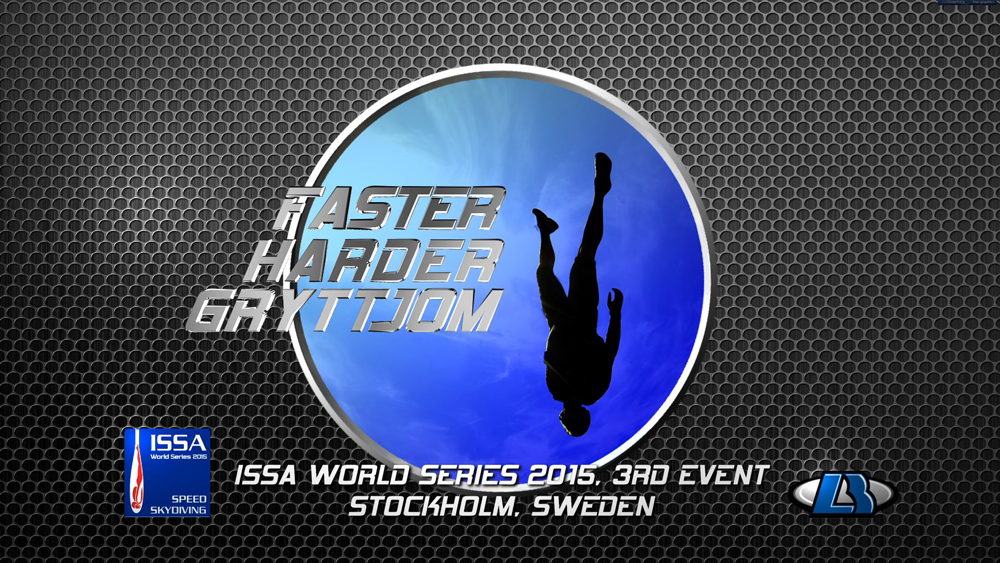 June 5th to 7th 2015 Dropzone Gryttjom
The ISSA World Series is back to Sweden - FASTER HARDER GRYTTJOM ! The registration to the swedish Speed Skydiving World Series meet is open.
Confirmed Registrations
the list is updated periodic
| | | | | | |
| --- | --- | --- | --- | --- | --- |
| Name | Firstname | Country | Newcomer | Intermediate | PB |
| Hagström | Daniel | SWE | | | 456,46 |
| Ewert | Tom | GER | | x | 363,66 |
| Anderson | Henrik | SWE | | | 452,73 |
| Raimer | Henrik | SWE | | | 419,71 |
| Eklund | Lars | SWE | | | 450,62 |
| Roslund | Henrik | SWE | x | x | - |
| Wiesenhofer | Reinhard | AUT | | | 470,64 |
| Porter | Timothy | GBR | | | 440,85 |
| Christof | Thomas | AUT | | x | 499,92 |