Links
Event roundup

(Words by Mike Lovemore)
This was one of the highest calibre speed skydiving events I've ever had the pleasure to be part of. It is really tangible how speed skydiving is taking off and standing proud amongst the 'official' skydiving disciplines. The integrity of speed skydiving has grown from a foundation of hard work and the discipline is as pure as they come. It is thanks to the investment of many many hours and contributions by sponsors and individuals over the years that we are where we stand today. This competition was of course dedicated to one of those people and I don't think there was anyone without a lump in their throat or a tear in their eye when Moritz gave a wonderful dedication to Tim Mace at the end of the competition. We all reflected for a few moments in silence his contribution, not just to speed skydiving, but also how in some way he's inspired all who knew him to achieve more than we thought is possible. It was wonderful to have Tim's wife, Gerda there to bring us close to him and always with a smile and gentle strength.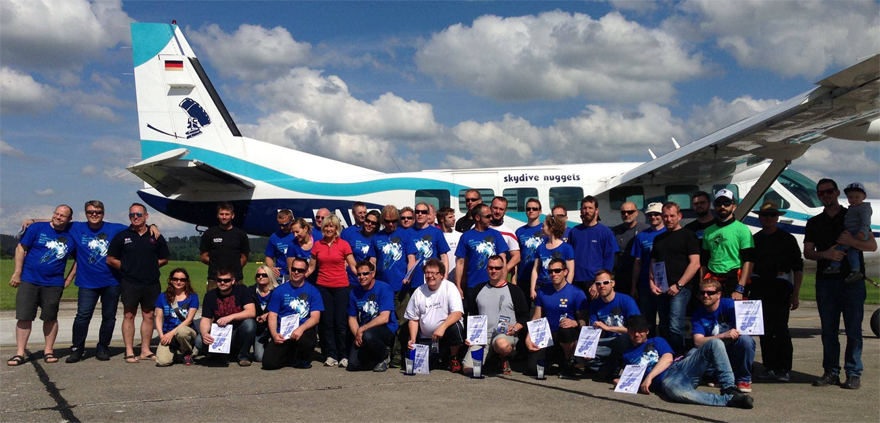 So the competition seemed to be truly following Tim's spirit with winner Marco Wiederkehr setting yet another astonishing ISSA speed world record of 557.57kph and finishing with an overall competition result higher than his previous world record. Daniel Hagstrom set three new Swedish records three jumps in a row up now from 456kph to 490kph. We have some impressive newcomers on the scene this year with Austrian Thomas Christoff finishing fourth and Tamás Bánski of Hungary finishing fifth. The German speed nationals is incorporated into this event. Congratulations to Moritz for winning his home competition, with Marco and Michael closely battling for second and third. Stephi Hipp is still rocking it as the fastest woman in a field of seven female speeders. Look HERE at the results to see just how strong a competition it was.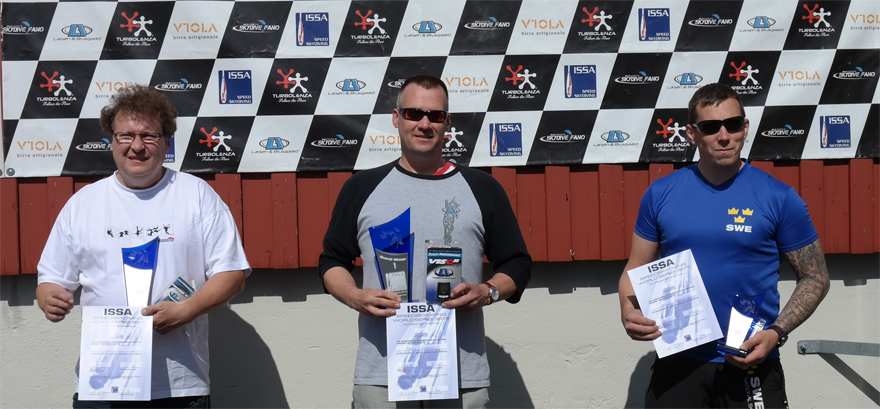 Recent developments in the all new, more accurate, more user-friendly speed download software, created by Holger Enderlin, Arnold Hohenegger and Moritz Friess, meant that we could all see our results and graphs online soon after jumping, and sometimes even before we'd finished packing from that round. This was a great leap forward for speed competition and the competitors were all very excited (well, as excited as we could be about software).
We really have a fantastic judging and downloading team. Arnold did a great job as usual as chief judge, with Holgi the genius controlling the technological black magic. Elisabet Mikaelsson came over from Sweden to assist the judging team. As IPC Speed Committee Chair, she is working hard to be involved as much as possible in all things speed, not just IPC speed.
A special mention goes to Angelika - the most patient wife and hard-working, cheerful speed downloader. She is still waiting for the ever busy Arnold to stop booking more and more judging dates in the diary and go on holiday!
There is not always the opportunity for a sponsor to become an integral part of the development of that which they support. But there is no way that we would be able to run such huge and successful speed skydiving events without the support of Larsen and Brusgaard. Their recent generous donation of a huge pile of Protracks to the ISSA enabled us to complete one round of 50 competitors, jumped and downloaded in approximately one hour. Imagine that.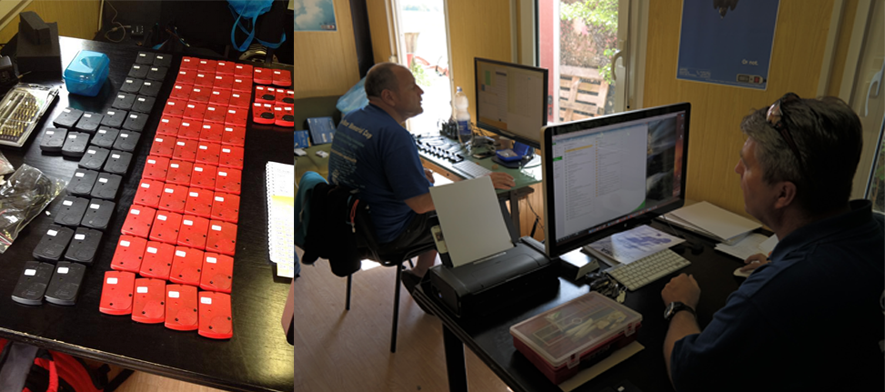 A final thank you to Moritz and all at Skydive Nuggets. Moritz as ever enthused more and more people to be passionate about speed and put together yet another great event. The Nuggets team were on the ball constantly and got us up in the air efficiently, enabling us to complete the competition despite the challenging weather.
Oh and finally speeders do like to party!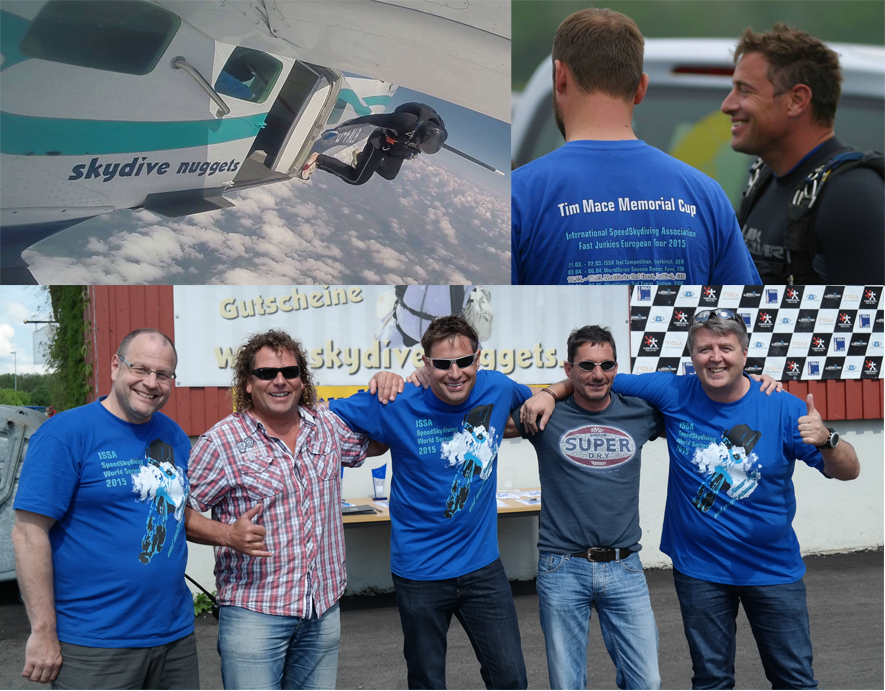 Live-Results

Registration
The registration for the Tim Mace Memorial Cup is open. The competition is limited to 64 competitors in total. So hurry up and register for the biggest Speed Skydiving competition world wide. Your registrations will be confirmed as soon as the organizer has received the entry fee of EUR 65.
Confirmed Registrations
the list is updated periodic (last update 7.5.2015, 57 confirmed registrations)
| | | | | | |
| --- | --- | --- | --- | --- | --- |
| Name | Firstname | Country | Newcomer | Intermediate | PB |
| Friess | Moritz | GER | | | 473,92 |
| Hagström | Daniel | SWE | | | 456,46 |
| Fuchs | Markus | SUI | | | 455,95 |
| Anderson | Henrik | SWE | | | 452,73 |
| Eklund | Lars | SWE | | | 450,62 |
| Raimer | Henrik | SWE | | | 419,71 |
| Hipp | Stephanie | GER | | | 461,40 |
| Legge | Katharina | GER | | | 301,30 |
| Ziegler | Thomas | GER | | x | 256,95 |
| Fischer | Benny | GER | | x | 334,02 |
| Hoffman | Tamara | AUT | x | x | - |
| Christof | Thomas | AUT | | x | 499,92 |
| Ringelhan | Matthias | GER | | x | 378,08 |
| Schmid | Peter | GER | | | 414,84 |
| Lovemore | Michael | GBR | | | 431,97 |
| Vliegenthart | Erik | RSA | | | 403,00 |
| Wiesenhofer | Reinhard | AUT | | | 470,64 |
| Labhart | Christian | SUI | | | 526,93 |
| Vater | Christian | AUT | x | | 384,29 |
| Hompasz | René | AUT | x | | 410,34 |
| Singer | Roland | GER | | x | 309,01 |
| Hofstadler | Stefan | AUT | | | 405,28 |
| Meller | Andreas | GER | | | 257,38 |
| Reithofer | Bastian | GER | x | x | - |
| Trostmann | Holger | GER | | | 393,26 |
| Hör | Florian | GER | | | 389,64 |
| Maisin | Luc | BEL | | | 451,93 |
| Götz | Florian | GER | | x | 447,41 |
| Althaus | Ulli | GER | | x | 378,40 |
| Bird | Jason | GBR | | | 457,56 |
| Diem | Alexander | AUT | | | 504,32 |
| Wiederkehr | Marco | SUI | | | 531,42 |
| Jordan | Volker | GER | | | 391,35 |
| Klostermann-Mace | Gerda | GER | | | 306,80 |
| Hoffmann | Ralf | GER | x | | - |
| Teichmann | Eva | GER | | x | 237,97 |
| Hepp | Marco | GER | | x | 428,20 |
| Ewert | Tom | GER | | x | 363,66 |
| Rebholz | Thomas | GER | | | 389,67 |
| Rommel | Florian | GER | | x | 308,34 |
| Noller | Rainer | GER | | | 382,15 |
| Werner | Jürgen | GER | | | 392,83 |
| Junginger | Matthias | GER | | x | |
| Carmele | Tim | GER | x | x | - |
| Kloiber | Hannes | AUT | x | | - |
| Waitzinger | Florian | GER | | | 358,42 |
| Sachs | Michael | GER | | x | 337,73 |
| Bánszki | Tamás | HUN | x | | - |
| Ferrari | Christian | AUT | | | 496,49 |
| Sadowy Naumienia | Monika | POL | x | | - |
| Näher | Michael | GER | | x | 351,58 |
| Jäger | Phillipp Patrick | AUT | x | x | - |
| Gebhart | Björn | GER | | | 370,40 |
| Wirsching | Patrick | GER | x | x | - |
| Bantock | Paul Graham | GBR | x | x | 342,95 |
| Etzel | Michael | GER | | | 440,39 |
| Schäfer | Marco | GER | x | | - |