On April 3rd competitor's from four countries arrived for the ISSA Speed Skydiving season opener. Training started from 4000 metres to fly as fast as possible toward Fano DZ which is situated along the beautiful Italian Adriatic coastline. Many thanks to Turbolenza Daniele Fraternali who made this event possible again. The flyers use ProTracks to record speeds achieved during their decent. Holger Enderlin downloaded this data, running through software an average speed is calculated during a measured 1km distance. The Judges Arnold Hohenegger and Angelika Mittasch arrived mid afternoon. Quickly a meeting was held and it was agreed to start the competition straight away due to adverse weather forecasts. Two rounds completed by Friday sunset were to prove invaluable due to very bad weather on the Easter Weekend. Heavy rain on Sunday and strong wind on Monday meant sadly it was not possible to complete round 3. We were lucky to achieve the minimum of rounds possible and call it a competition. Newcomer Thomas Christof from Austria showed an outstanding performance 452 kmph in training, 465 kmph in round 1 and 499 kmph in round 2. Thomas won the competition in front of Moritz Friess from Germany and Luc Maisin from Belgium. For full results and further information on this exciting growing discipline visit the ISSA website. I would like to thank the staff at Fano Dropzone and everyone involved in making this competition possible, see you next year...
Tim Porter
Article written by Tim Porter ... who pushed his personal best in round 2 up to 440 kmph. Congrats to Tim!


Photo: Thomas "Moritz" Friess starting his speed skydive above the beautiful adriatic coastline at Fano Italy.
Official Results
ISSAWorldSeries2015_1stEvent_Fano.pdf
Live-Results
Podium 1st ISSA World Series Event 2015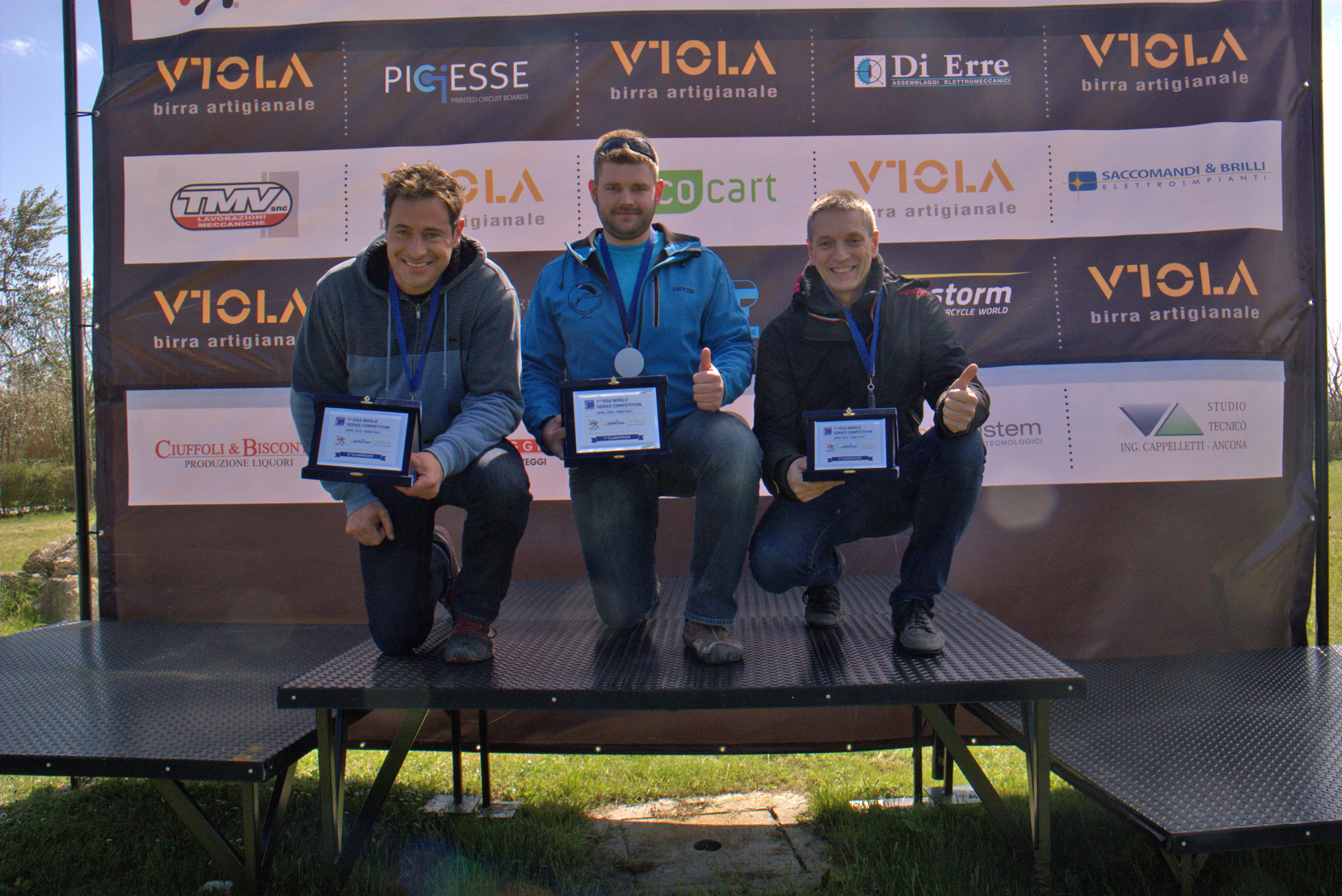 from l.t.r.: Moritz Friess GER 2nd place, Thomas Christof AUT 1st place, Luc Maisin BEL 3rd place
Competitors and Officials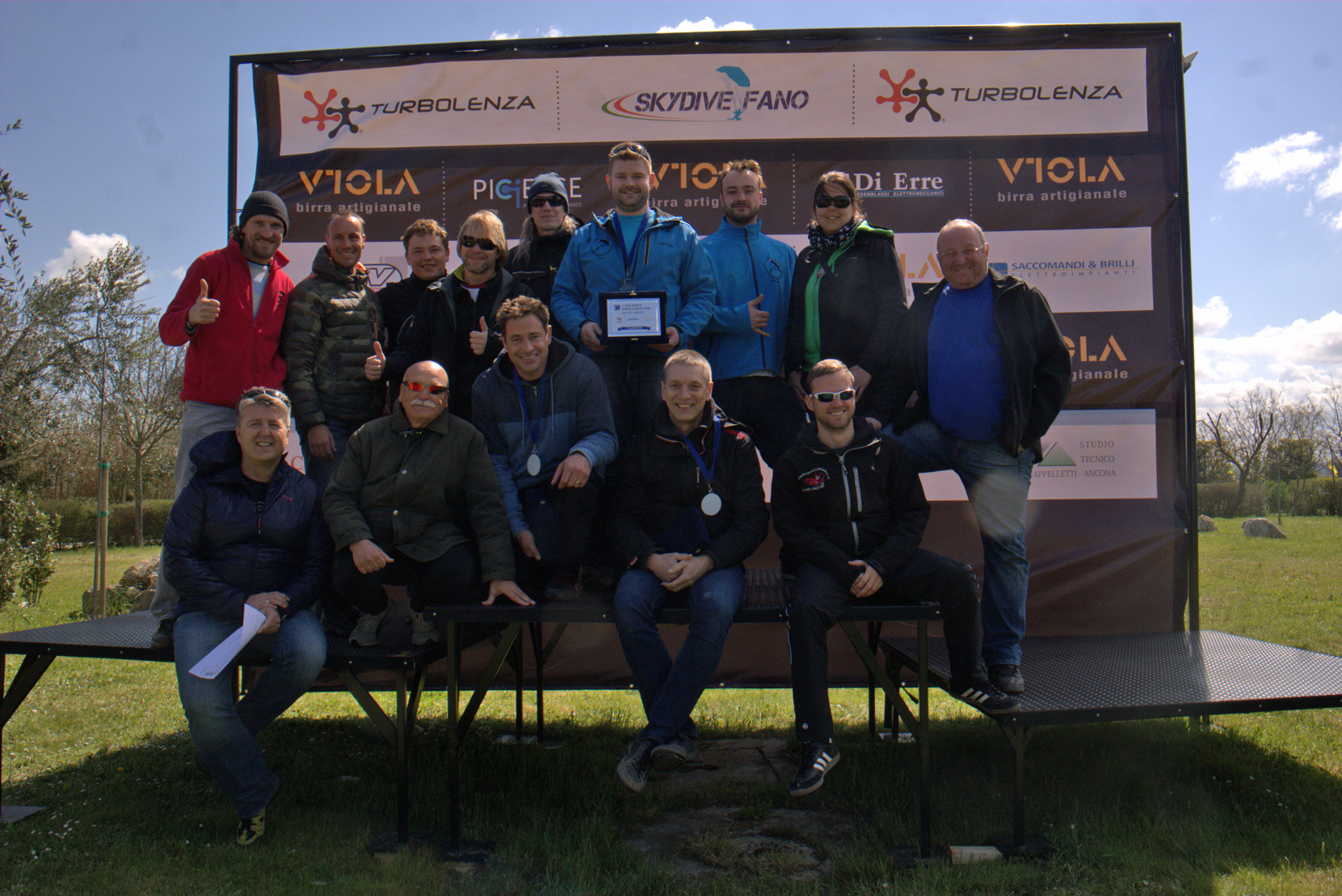 Scoreboard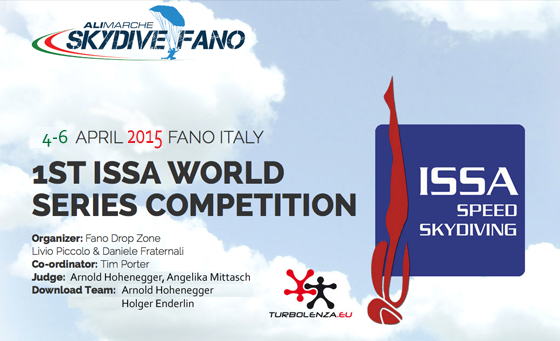 The successful italian story continues. As last year the new Speed Skydiving Season will be opened in Fano Italy. We are looking forward to a speedy event on a great dropzone.
Pre-Registered Competitors
| | | | | |
| --- | --- | --- | --- | --- |
| Name | Firstname | Country | Newcomer | PB |
| Porter | Timothy | GBR | no | 415,80 |
| Friess | Moritz | GER | no | 473,92 |
| Fuchs | Markus | SUI | no | 455,95 |
| Hipp | Stephanie | GER | no | 461,40 |
| Ziegler | Thomas | GER | no | 236,84 |
| Christof | Thomas | AUT | yes | 463,80 |
| Wiesenhofer | Reinhard | AUT | no | 470,64 |
| Hofstadler | Stefan | AUT | yes | 405,28 |
| Althaus | Ulli | GER | no | 368,15 |
| Ewert | Tom | GER | no | 363,66 |
| Noller | Rainer | GER | no | 382,15 |
| Tuschl | Rainer | AUT | yes | 419,45 |
| Maisin | Luc | BEL | no | 451,13 |
| Rommel | Florian | GER | no | 308,34 |