The Tim.Mace.Cup. as the ISSA World Series second Event and the German Nationals in Speed Skydiving 2018
A report from the organizers point of view - Words by Gerda Maria Klostermann Mace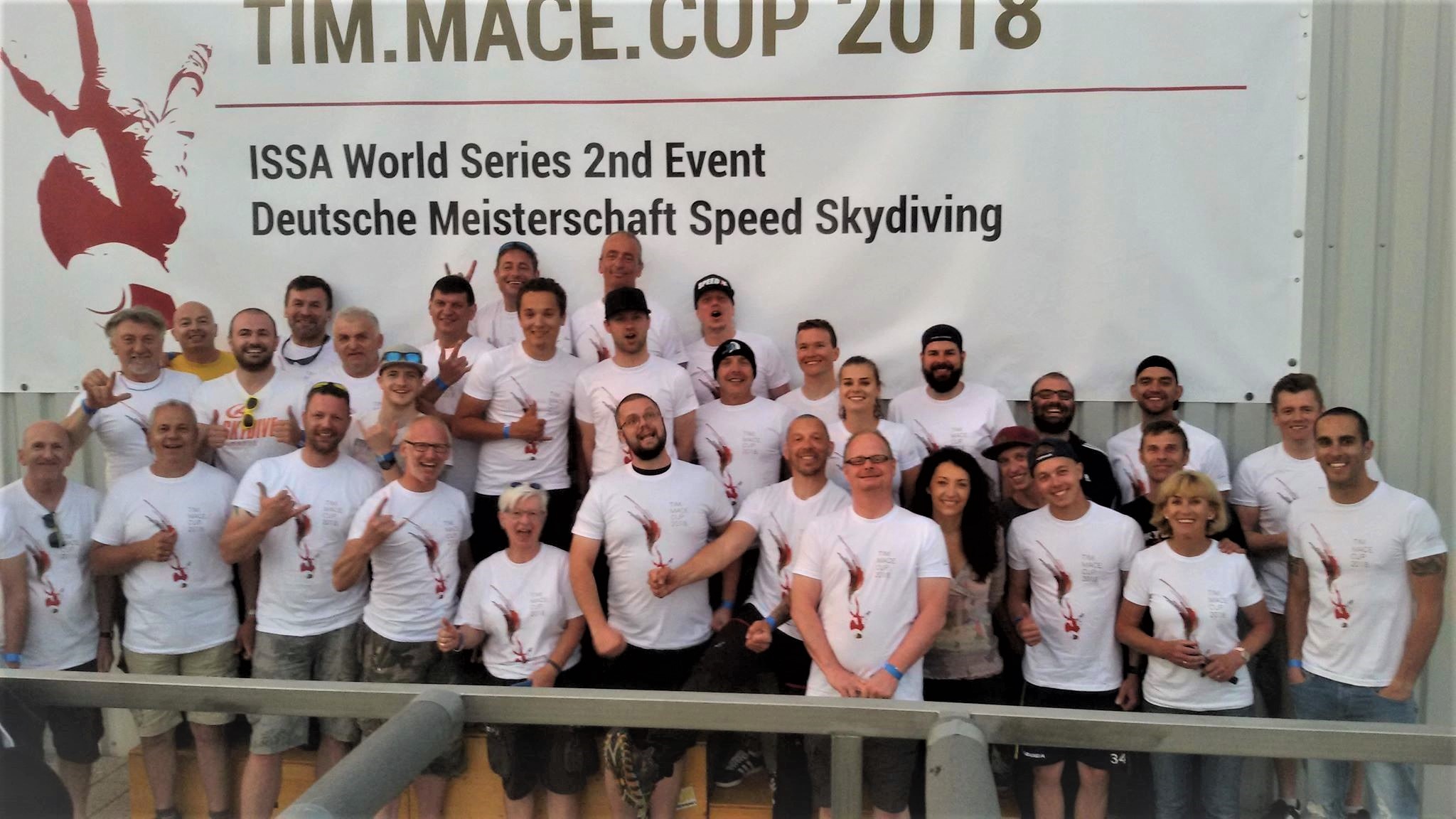 If you have to organize a traditional event like the German leg of the ISSA World Series plus the German Nationals the pressure to succeed and make it a good experience for everybody is big. Besides the weather, which we all know can´t be influenced but on which everything depends, we learned that there were quite a few more imponderables showing up and waiting to be solved. This year the official GO from the ISSA came at the end of February which left us 3,5 months only to get set. It is difficult to find a date left and an appropriate DZ with free capacities at that time of the year. Same applies to finding judges and to acquire competitors from all over the globe as much as you can.
| | |
| --- | --- |
| | |
To anticipate, it all worked out fine. It turned out that we were lucky with the judges team consisting of Mike Pennock (NED), Gundel Klement (GER) and Bert Ham (NED), all experienced FAI judges. Bert Ham immediately took over the duties of the previous Chief Judge Tamy Hoffman, who had to quit a few of days before the competition due to a bereavement in her closest family.
Safety and playing the games according to the rules were the two most important points for me. Therefore, we started checking the rigs for safety and regulations on Thursday. All newcomers received the mandatory instruction in the discipline of Speed ​​Skydiving with emphasis on safety aspects from no one less than Max Hurd. He repeated it on Friday noon for those interested. Thank you, Max, your presentations were very much appreciated.
The event was opened on Friday morning with 31 competitors from 11 countries (including Russia and South Africa) listening to the German national anthem. Very soon it turned out that the amount of pouches was too little in relation to the number of competitors. Then some of the ProTracks2, in use at World Series Competition for the first time, showed incorrect measuring or even failures, which caused 15 rejumps. Both problems were smartly solved by the judges. Thanks to the competitors who did (and payed) their rejumps without any complaint.
During the winter months Holger Enderlin (Intervision) had worked on developing the software for reading the new ProTracks2. All my fears and doubts whether it would work alright were vanished away after the first evaluations. Reading the SMDs measurements has never been that fast and uncomplicated like this before!
It was good to see the competitors having fun jumping in wonderful sunshine, also having enough relaxing time for sitting and chatting, exchanging experiences or mesmerizing their cellphones. It was a good idea to provide free water and other non-alcoholic drinks as the temperatures went up to 28°C.
Again some National Records were set:
Right at the first jump Paulo Alves set a new Portuguese record with 383.42 km / h, Simone Bonfanti followed in round 2 with 508.05 km/h for Italy and Moritz Friess set a new record with 571.11 km/h for Germany. Marco Hepp stepped into the exquisite circle of the few speeders over 500km/h by flying 500,38km/h. Congratulations to you all!
The winners podium showed two Germans: Moritz first and Marco Hepp third. Max Hurd came second. Best Newcomer was Matthias Kraft, also German, who really enjoyed discovering the Speed Skydiving scene.
It is a shame that we had two Ladies participating only. Mascia Ferri from Italy and Lucy Lippold representing Germany. Competition was tight between the two sympathetic beauties. Lucy had a slow start but could improve and finally won the Ladies trophy.
For the German Nationals the podium looked almost the same: Moritz Friess first, Marco Hepp second and Volker Jordan came third without any training jumps. Lucy Lippold made the German Ladies Champion and Matthias Kraft was best Newcomer.
I want to express a big thank you to the fabulous team of judges! Bert as Chief Judge also ran a judging course for Günter Berendt, German IPC delegate and well known as an experienced Chief Judge for Cat.I events in Classic Disciplines. Thank you for showing your massive interest in our discipline and congrats for making your Speed Skydiving rating! Another desperately needed Speed-judge - welcome to our circle, Günter!
Also a big thank you to Paranodon staff: Tina, the rigging master, Etienne, Diego and Sinje. Last but not least also thanks to Robert Fahrenschon, the best pilot I can think of. You all made this event safe, secure and well organized!
After 256 jumps, 2 cutaways and some unexpected obstacles before and during the competition I admit this event was a bit of an adventurous challenge to me as an organizer. But (and most important), as far as I`ve heard, I may say this also became an enjoyable experience for the competitors to remember. After the award ceremony we had the Saturday night dinner which comprised various Italian appetizers and Bavarian tasty dishes followed by the after comp-party lasting until the early morning hours..